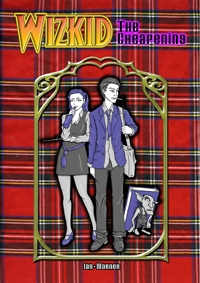 This is a digital download, hardcopy can be purchased at Lulu.com
Wizkid is the next (Xpress version) game in the Shadow World series and this time the satirical sights are set upon wizards, witches, magical boarding schools, fan fiction, slash fiction, 'otherkin', teen-witches, young adult fiction, MMORPGs and supernatural romance.

Wizkid is also a fully featured game that could be taken more seriously and used to emulate many of these things - if you were so inclined. Otherwise it expands our gameworld and is fully compatible with Bloodsucker: The Angst and Chav: The Knifing.

Contains no egregious references to chuffin' Atlantis either.

WARNING
Since we're making fun of fanfic and slashfic this book, despite being about magical schoolkids, contains adult references and fiction.