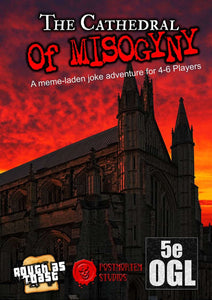 This is a digital download.
There's a long history of 'silly' adventures in tabletop gaming. Even professional modules were often replete with puns, nonsense and other silliness. Some of the most iconic monsters and strange things in Dungeons and Dragons started out as jokes, in-jokes, or silly improvisations and this is something that has become a little lost in more modern times.

This adventure was prepared as an introductory adventure for a new player, hosted in an online session over Google Hangouts (isn't modern technology wonderful?) As such, it's full of bad jokes, puns and nonsense relating to online culture and the culture of computer gaming – which they were more familiar with. Still, you may enjoy it and if nothing else it may inspire you to include a little silliness – and some more pop culture references – in your own games.