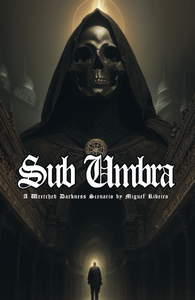 Sub Umbra is a conspiracy thriller scenario for Wretched Darkness or other modern horror OSR role-playing games. It is a sandbox adventure taking place in Portugal and contains information about several real world and fictional factions (some of them already featured in previous Wretched books), characters and historical events.
Knowing Portugal or Portuguese history is optional. The most relevant information is described here, and though the players may have a hard time figuring out some clues, the Game Master should use NPCs to give them the necessary hints.This scenario should be set in the late 1980s/early 1990s, a political and social change period in Portugal.
After decades of authoritarian rule under the Estado Novo regime, the country transitioned to a democratic government and joined the European Economic Community. This was a time of growth and modernisation but also of uncertainty and turbulence. Portugal was experiencing a boom in its cultural and intellectual life. The country was home to a vibrant arts scene with a rich storytelling tradition.
At the same time, interest in the paranormal and the occult rose in Portugal, as it did in most western countries. This interest was fuelled by Portugal's history as a colonial power and its role in the Age of Discovery, as well as its close ties to the Catholic Church. Sub Umbra's plot draws on real-world themes, the history of secret societies and the occult, and the fear of government corruption and conspiracies. It's obviously influenced by Umberto Eco's Foucault's Pendulum and Arturo Pérez-Reverte's The Club Dumas and The Seville Communion.