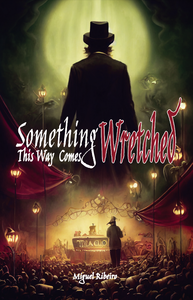 As the title so obviously implies, this scenario is heavily inspired by Ray Bradbury's Something Wicked This Way Comes. Just like in Bradbury's dark fantasy novel, there's a mysterious travelling troupe arriving in a small town and granting people's wishes. As in the source material, making the townsfolk's desires come true is just a ruse for evil beings to feed upon their life force (and maybe a little more than that).
Of course, the events will not be the same, the carnival is replaced by a European circus troupe, and this adventure allows the players to take the roles not only of children but also of the adults being tricked into submission or even the evil circus people. Naturally, this being a Red Room release, the adventure couldn't be as innocent as Bradbury's tale. That's why we crossed it over with the horrific and exploitative imagery of sexy fumetti, Italian adult comics of the 1970s/ 1980s popularised by the covers drawn by Emanuele Taglietti, Alessandro Biffignandi and Fernando Carcupino, among other artists.
So, if you prefer a dark but ultimately wholesome adventure, let the players choose the
children and tone down the lewdness and violence of some events.The group of young
characters in this adventure's cast were childhood friends who recently enrolled in junior high school.