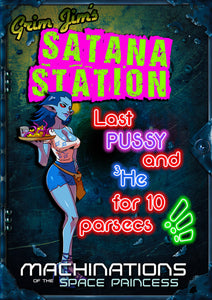 THIS IS THE PDF VERSION, YOU CAN GET THE PRINT VERSION HERE.
A runaway space station controlled by a rogue AI.
A haven for scum, pirates, slavers and other ne'er-do-wells, squatting amidst the ruin of the fallen Urlanth Empire, right on the edge of a warzone.
100 shops, services and interesting people for your players to interact with, inspiration for hundreds of adventures and many ideas that can easily be ripped off for other space opera, heavy metal or OSR science fiction games.
150 pages of spicy, sci-fi goodness.