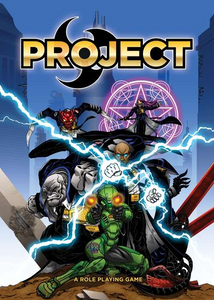 This is a digital download,
hardcopy
can be found at Lulu.com
PROJECT is a role-playing game about heroic guardians of reality.
After a terrible, supernatural disaster the world has been rent asunder and strange things have begun to bleed in all around the edges.
Humanity has recovered to an extent and continues to fight these beings and forces from beyond known as 'Entities'.
The group PROJECT is at the forefront of humanity's defence, using the strange technologies and abilities of the Entities against them and reasserting reality one bloody fight at a time.
In the game, you will take the role of one of the heroic agents of PROJECT, modified
through barely understood technology and thrown against the strange and deadly beings and events that press in on the Earth from its neighbouring dimensions and parallels. In the process, you may begin to discover things that you wish you didn't know and that the battle for reality is not as black and white as you have
been indoctrinated to think.
PROJECT IS SAVIOUR