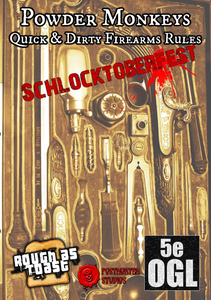 This is a digital download.
Adventure gaming ideas have moved on a great deal. Our concept of what's acceptable in fantasy has moved on from the medieval period more into the Renaissance and Restoration eras. That means firearms, which have often been eschewed in traditional fantasy for one reason or another, but in many ways, firearms make a great deal of sense. Magic has already affected the changes that firearms did in the real world, reducing the effectiveness of armour and fortification, allowing ships to project force at a great distance – even from offshore.

Like crossbows supplanting longbows, firearms democratised firepower. They didn't require a huge amount of skill – despite being more technical and fiddly in many ways – and a man could be armed and fire en masse with other to devastating effect very swiftly.

Besides, guns are just fucking cool. Loud noises, clouds of smoke, devastating musket balls, the potential for new kinds of magic and explosives.

The mistake that seems to occur in a lot of games is making the guns too powerful, too close to modernity. Guns start to stop being appropriate to fantasy once you get to revolvers (discounting the Barsoomian influence) and the best balance seems to be guns no more advanced than those found in the sixteen and seventeenth centuries.

Rough as Toast
'Rough as Toast' is my imprint for 'cheap and nasty' products. Things that are a bit more experimental, silly or 'hit and miss' where a lot of money can't be spent or risked on a bit of an 'out there' idea. If you see that marker, you know you're getting something a little 'whacky' or uncertain, but you will probably get some fun out of it.

Schlocktoberfest
The Pulps were churned out at a massive rate of knots. Strange and silly ideas thrown at the wall to see what stuck. Occasionally some of those ideas turned out to have legs – legs that are still carrying them nearly a hundred years later. My intent with Schlocktoberfest (previously just a sale some years back) is to just throw a bunch of monsters, ideas and other bits and pieces at the 'wall' and see what sticks. Maybe something will.