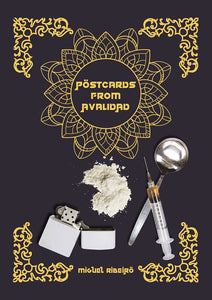 THIS IS THE PDF VERSION YOU CAN GET THE HARDCOPY AT LULU.COM
Postcards from Avalidad is a darkly surreal Tech-Noir game setting and adventure context for *Punk, and Actual F*cking Monsters.
Avalidad combines cyber, bio and psi punk to create a Burroughsian nightmare world of decadence, drugs, Libertarianism, violence, glamour and oppression.
You will delve into the strange lives of Avalidad's celebrities, fiscal royalty and seedy underbelly in this unique game setting.