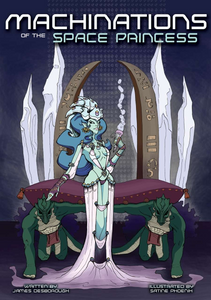 This is a digital download, you can purchase black and white or colour from Lulu.com
Machinations of the Space Princess is a Science-Fantasy role-playing game. That
means it's very much about style over substance, mixing science-fiction, magic and
psionics in a game world that owes much more to Metal Hurlant and Star Wars than
it does to 2001 or Bova's Grand Tour. This is a game of strangeness and fun, of space
pirates and beautiful alien princesses, of living planets and robot hordes, of blasters at
noon.

This is...

Sexy, sleazy, swords and sci-fi!
A full game combining old and new school thinking, packed with GM and player advice and with simple tools for creating your own monsters, adversaries, weapons, armour, ships and alien races.

NOT REALLY FOR ADULTS PER SE, BUT CONTAINS RUDE WORDS LIKE 'BUM', 'POO' AND 'WILLY'.