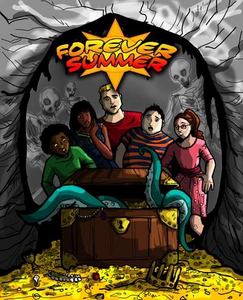 This is a digital download.
Forever Summer is a role-playing game of children's adventure.

Evoking the likes of Goonies, Monster Squad, Eerie Indiana and Gravity Falls, Forever Summer drops you into the sleepy town of Oceanview for a long summer of adventure, mystery, thrills and excitement.
Behind every door lies a mystery, an adventure, or something scary!
Forever Summer features:
A simple system, suitable for children and beginners.
Details on Oceanview - a whole town of strange adventures!
Quick and easy play, suitable for fill in games and convention scenarios.
(This is an updated version of Forever Summer with some additional material in response to the reviews)