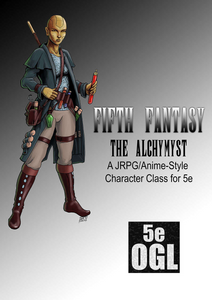 This is a digital download
While others grub around with their burners and their distillations, their purifications and their poisonings the Alchymyst - a true alchemist - seeks knowledge in the basis of all things. The elements. Reducing things down to their basic components - Earth, Air, Fire, Water, Light, Darkness and Magic the Alchymyst can manipulate things on a fundamental level. With this knowledge, they can perform remarkable feats, without recourse to magic and without the limitations of magic. The mixtures and chymicals they create only run out when you run out of ingredients and between gemstones and slain monsters... there are plenty of ingredients.

This booklet contains all you need to play an anime/JRPG inspired alchemist character class, along with equipment rules and rules for harvesting the ingredients they need for their concoctions.