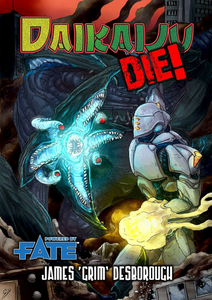 This is a digital download, hardcopy can be purchased at Lulu.com
Daikaiju Die! is a game about beating up monsters in giant mecha (called Ridders).

The players take the part of mecha pilots and their support crew. They will fight giant monsters and walk in their shadow. They will establish rivalries and defeat villains.

They will uncover conspiracies and lead the fight back against what seems to be a world itself in rebellion against humanity.

Mostly, though, they'll smash giant monsters to pieces in epic, destructive fights.