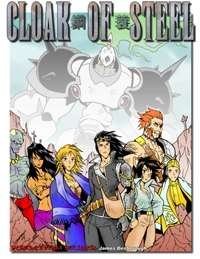 This is a digital download.
Gigantic metal warriors clash in the world of Tierplana.

Ideology and faith are the points of conflict, not 'good' and 'evil' or the bidding of gods.

Powered by Postmortem's Live System OGL implementation Cloak of Steel has...
Streamlined, deadly and more cinematic OGL combat.
Classless & levelless character creation.
Feat based magick implementation, using 'mana points'.
Rules for Cloaks (mechs), Squires (powersuits) and Airships.
Extensive and well thought out gameworld.
Art by Raven Morrison & Icymasamune of 'Shadowlark Symphony'.
Don your Cloak and enter battle for your future.