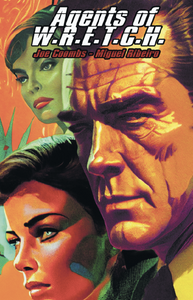 Everybody loves the thrill and excitement of folks in black running about with secret
devices, sipping on a Martini or a gin and tonic over a game of poker that's being
monitored.
A rather large fellow strokes his fluffy diamond-studded collar-wearing white pussy, while being informed of who is holding what. On the craps table, an excitable crowd are gathered around a debonair English fellow while he rolls his lucky red and white dice.
Meanwhile, in a hot, humid jungle, a special covert operation infiltrates terrorist cabals hitting hard and fast, rescuing hostages and saving the day.
Unfortunately, something else is out there waiting in the bush.
W.R.E.T.C.H. (Warrior Recon Extraction Terrorism Control Hawks) is the umbrella that saves the world from other worlds and evil secret things that get reported but covered up. Your agents are bastards, special bastards, constantly on call knowing each mission could be their last.
Good luck and good hunting!

Inspired by classic 1960s and 1970s T.V. Shows: Avengers, Danger Man, The Baron, The Saint, The Professionals, Six Million Dollar Man and Mission Impossible. Decided to toss in a bit of The Dirty Dozen and a little bit of Kelly's Heroes.
The violence was inspired by 1980s/ early 90's classics such as Rambo, Cobra, and Predator, whilst mixing in some psi ops courtesy of Cronenberg's Scanners and De Palma's
The Fury.