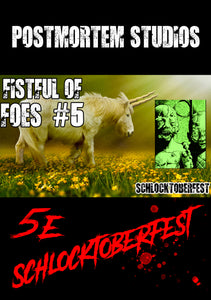 A 'Schlocktoberfest' quick-and-dirty set of monsters for you to use in your 5e compatible games. They're rough as toast, but you get five novel monsters from my twisted mind. Screen size and format for easy tablet/laptop reference.
Bicornes - chaotic guardians of nature at its wildest.
Giant hermit crabs - they use the craziest things for shells.
Corpse ooze - Zombie? Ooze? Why not both?
Flenser - Flayers of body and muscle.
Otomou - Radioactive midgets from the bowels of the earth.