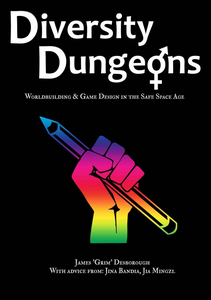 This is a digital download
Much digital ink (and blood) has been spilt talking about diversity representation in tabletop gaming and in every other field of geek and nerd endeavour. Usually, these conversations are extremely combative and they tend to end poorly for everyone involved. I've been involved in these debates and discussions myself, to my detriment. The position I hold being that free expression and the vision of the author or creator should trump any and all other concerns – including diversity, representation and so on. To my mind the answer is for people to create according to their own conscience, not to be condemned out of hand or for their motivations to be presumed and for diversity of ideas to be the benchmark. I want a world in which Varg Vikernes and David Hill can both make and sell games and I can ignore both of them.

That said, I cannot help but be drawn to controversial topics – that is where the interesting conflicts and stories lie - and there are few topics so controversial as the treatment of 'minorities' within media. Here we arrive at a nexus-point between realism, expectation, demands for representation, demands for free expression, historical revisionism, magic, science fiction, truth, 'is' and 'ought'. That makes it interesting, but the battle lines of identarian politics, liberalism, conservatism, the regressive left and cultural libertarianism also make it an area fraught with difficulty and wilful misunderstanding.

There are no good – or at least no satisfactory – answers to a lot of these questions. Perhaps there are just multiple approaches each of which will annoy some group or other. What's true in all circumstances however is that these controversial topics are interesting, fascinating and important in terms of world, character and scenario building whatever your particular stance.

This booklet intends to examine these issues in and of themselves, outside of the current state of controversy and to ask – rather - how we might better simulate the plight of minority groups, understand them within the context of fictional worlds, make allowances for player-characters who might seek to buck those societal trends or allow characters – through their actions – to affect social change within the game worlds.