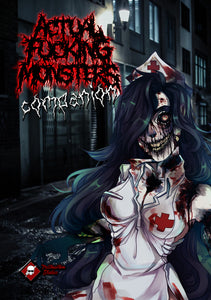 This companion volume to badly named but well-executed horror RPG Actual Fucking Monsters is bigger than the original! 120 pages of content for your Actual Fucking Monsters games, too spicy for Drivethrurpg.
We've got random character generation if you're into that sort of thing.
We've got a whole wedge of new Monster Powers so you can dissolve your foes with vomit or get in touch with their feelings.
Want to play a dark, evil magician? Got you covered.
Want to introduce boring stuff to worry about, like, 'humanity'. I don't think you should, but we've got you covered anyway.
Want to fight against the Monsters as a Hunter? You can do that now, with more details on the Hunter organisations from the main book, and new ones! Along with revised Hunter 'Powers'.
Want to run your games safely without some absolute head-end crying to mummy that they didn't know a game called Actual Fucking Monsters was about Actual Fucking Monsters? Details for the M-Card game insurance policy are included.
Need victims for your Monsters to do horrible things to? We've got a random victim generator and 100 pre-generated victims!
Player advice on how to have fun in an Actual Fucking Monsters game? You bet your sweet arse.
Some ideas for artefacts, and some examples.
A (very scant) idea of a sort of setting beyond the implicit. Learn where Monsters fit into the world.
And lastly, a long-ass example of play, to help you grok with fullness.
This is a Post-Mort.com and Lulu.com exclusive, so please, inform everyone you can that this is up for sale!